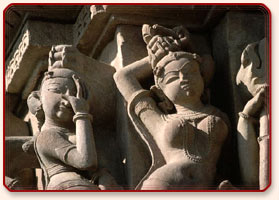 Though it is the temples and their erotic sculptures that first come to mind when we talk about Khajuraho, but they are not the only things worth a look here. There is a fort, a palace and a museum for those who want to delve into the regal and cultural splendor of the region. There are interesting lakes and waterfalls and beautiful rock formations that can charm any nature lovers who ventures there and there are national parks and sanctuaries for the wildlife enthusiasts. For the casual tourists, who just want a break from the hectic lifestyle of the big cities, Khajuraho is an idyllic place to visit.
Rajgarh Palace
25 km from Khajuraho, just 50-year old Rajgarh Palace is situated at the foot of Maniyagarh hills.
Ajaygarh Fort
80 km from Khajuraho, Ajaygarh Fort is situated at a height of 688m. This fort remained the capital of Chandelas during the dark times before their reign ended.
Kalinjar Fort
100 km from Khajuraho, Kalinjar fort is as old as the Gupta period and was won over the Chandela ruler Shri Yashovarman in the 10th century. This fort is situated on the Vindhya ranges.
Dhubela Museum
57 km from Khajuraho, Dhubela museum is situated in an old fort on the way to Jhansi. The museum has a rare collection of Bundelkhandi artifacts and a myriad of sculptures of Shakti cult. Besides that, it also has several other sections such as those on clothes, armory and paintings.
Panna National Park
30-minute drive will bring you from Khajuraho to the famous and splendid Panna National Park. The region is rich in wildlife and its highlights are Leopards, Wolves, Gharials, Wild Boars, Sloth Bears, Cheetals, Chowsinghas, Indian Foxes and Porcupines. Flora is not the less inviting with dense teak forests and the panoramic landscape of the sanctuary has deep gorges and lush green serene valleys. But due to the hot summers, this national park remains close from June to October.
Ken Gharial Sanctuary
24 km from Khajuraho, Ken Gharial sanctuary is the best place to see the crocodiles with long-snouts living in their natural home. The dreadful glimpse of the sharp teeth seemingly ready to engulf you at once does not correspond to the behavioral characteristics of these crocodiles with normally peaceful nature. However, it is best to keep the distance.
Pandava Waterfalls
30 km from Khajuraho, Pandava waterfalls are so called because it is believed that Pandavas spent most of their time in exile here. It is on the Ken River.
Raneh Falls
20 km from Khajurao, Raneh Falls are famous for the lovely rock formations on the River Ken. Besides the multihued pure crystalline granite canyon, which is 5 km long and about 100 ft deep, in varying shades of pink, red and gray, there are a number of seasonal waterfalls in the nearby wooded area making it a perfect picnic spot.
Benisagar and Ranguan Lakes
Lake Benisagar is 11 km from Khajuraho while Lake Ranguan is 25 km from Khajuraho. Both these delightful lakes have boating facilities and are perfect venue for a short picnic.